Beil-Didier Funeral Home - Marion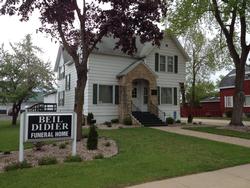 The funeral home is located at 207 S. Main Street in Marion, Wisconsin.

Formerly the Uttormark Funeral Home and later run by Heuer-Sievers-Stensrud Inc. until the late 1970's. Beginning in 1977 William Rhodes and Richard Beil became partners to continue the tradition of serving families in the Marion, Caroline, and Big Falls areas. Mr. Rhodes retired and in 1996 Robert Didier joined the firm.